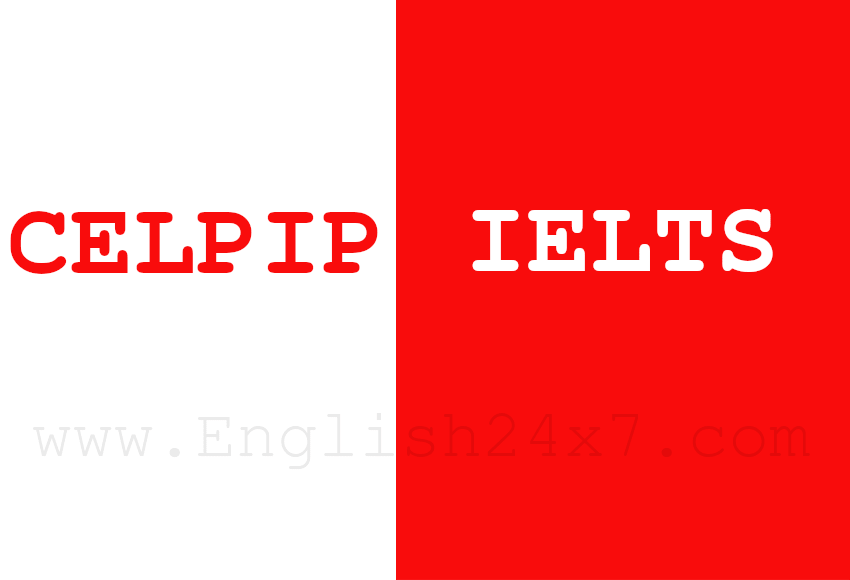 WHICH ENGLISH TEST IS EASIER: CELPIP OR IELTS?
WHICH ENGLISH TEST IS EASIER: CELPIP OR IELTS?
Just as direct as the question is, I feel it's my responsibility to cut to the chase instead of beating around the bush and tell you which of the following tests is easier. But again would that be appropriate if you didn't know what these two tests basically are and for what?
The answer is a BIG NO! Choosing one test out of these two would only be appropriate if these are valid in the country you are applying and the test method is suitable for you, wouldn't it? So, let's first understand the basics of these tests and then get to the point of what is better and what's not.
The basic difference in the standard IELTS Test and CELPIP Test is of the mode of test conductivity. As while the IELTS test can be conducted both manually (on paper) as well as on the computer, CELPIP is a 100% computer based test where all the modules (including the speaking) are given on the computer.
So, if you are not much computer with operating computers, you better know what to do! Apart from this, another extremely point is the fact that while IELTS offers both Academic and General Training module – which means according to the test type selected, you can apply for a student visa as well as permanent residency. Click here to Know everything about IELTS.
However in the case of CELPIP you are only valid to apply for Canada Permanent Residency (any program) or Canadian Work Visa (like the Federal Skilled Worker Program, Federal Skilled Trades Program criteria).
You can get more information about the types of visa granted after accepting the CELPIP Test on the official website of Canadian Immigration.
Another interesting fact lies in the full forms of the names of these tests. As where IELTS stands for International English Language Testing System, making it apt and applicable to most of the countries internationally, CELPIP means Canadian English Language Proficiency Index Program which means that is a test exclusively designed for applications to Canada.
This means if there is some country other than Canada where you intend to apply, then CELPIP would not be an appropriate choice for you as it can provide you only a Canadian Visa (only after clearance obviously).
Again, it is quite important to note her that CELPIP is further of two types, the first one being simple CELPIP also known as CELPIP General (for Permanent Residency and Work Visas) and the other one being CELPIP – General LS (for Canadian Citizenship – only if you have Canadian Permanent Residency).
In terms of the test time also there is a huge difference between the tests as IELTS requires two different sittings for the test – one for Listening, Reading, Writing and another one for Speaking.
CELPIP being a computer based test is completed in a single sitting of around three hours. What is more, the results of CELPIP are also delivered faster as compared to those of IELTS which takes around two weeks for the result to be declared and on the other hand, you can receive the scores for CELPIP within five working days.
Well, it's quite clear that the time after which the test result is to be declared wouldn't have much impact on the choice that you make, but its applicability and acceptance surely matter, which means if you are well-versed with use of computer and are intending to apply for Canadian Permanent Residency or Citizenship, then CELPIP could be the better choice for you but only when you are completely aware of the pattern and the question types.
However, if you are the one comfortable going with the general norms and methods like delivering a paper-based test, or consider yourself to be more familiar with the IELTS pattern, you can either appear for standard paper-based IELTS or give Computer-delivered (CD) IELTS a chance. Again if you are not sure why to give CD-IELTS, do check out our blog Why opt for CD-IELTS?.
Anyways, if you choose to read further, this means you are interested in knowing what CELPIP is and how the whole mechanism of the test works (Oh no! By mechanism I don't mean that we are going to delve much into the technical aspect as it's the engineers work after all, we'll just be understanding the exam pattern).
Developed by the Paragon testing enterprises, CELPIP is a language proficiency test designed to check your skills in four daily use English skills which are reading, listening, writing, and speaking.
The best about the test is that it all the parts of the test are designed keeping in mind the requirements of the real English speaking world rather than involving mere academic lectures and discussions.
Obviously, it seems that the developers had planned the test keeping in mind the needs of the practical English speaking world and it's for sure that the candidates attempting for the test would not feel that they are doing something which is not a part of their daily lives.
UNDERSTANDING CELPIP EXAM PATTERN
Yes, yes! I know that after reading so much about the test, your curiosity about the CELPIP Exam pattern is on peak. Without further ado, I'm now going to present you with a chart that would help you understand what the test basically is about!
CELPIP LISTENING
Before we actually start having a look at the pattern of the test, kindly note that each part of the test is played only once and unlike IELTS Test, you shall not have all the questions in front of you before the audio starts. In fact you shall have to listen to the audio without knowing what is going to be asked as a question.
However, the audios are generally for a short duration of time and you are allowed to take as many notes as you want during the test. Also, all the questions are objective which means you need to select the appropriate option with your mouse instead of typing it.
Now have a look below to understand what the CELPIP Listening is like:
CELPIP LISTENING
Section Types: (The sequence may vary)

Total Time - Approximately 50 minutes

Number of Sections - 6 (Excluding practice and unscored section)

1. Listening to problem

2. Listening to a daily life conversation

3. Listening for information

4. Listening to a news item

5. Listening to a discussion

6. Listening for viewpoint

(Students wouldn't know which part is unscored)
After each section is completed, you will listen to some questions based on the audio that you have just heard and while the question is spoken, you can see the options for that question in front of you. As the recording and question would be played only once, you need to listen and answer carefully. If you want to practice the questions visit our website www.celpipstore.com
CELPIP READING
The next part of the test is reading. Well, in my opinion, CELPIP reading is all about getting the gist or in other words, the central idea of the article given to you and just as the whole structure of the CELPIP test is designed, the questions which you shall be encountering in CELPIP are going to be those that you are likely to come across anywhere in your career, for instance, applying for a job, checking a diagram (say a menu card at a restaurant) to find the best deal, reading opinions of different people and identifying one of them etcetera.
All the tasks that you would come across in the reading section are going to prepare you for your upcoming life in Canada (Yahoo!!). So let's get started:
CELPIP - Reading
Sections: (Instructions given side-by-side)

Total Time - Approximately 50-60 minutes

Number of Sections - 4 (Excluding practice and unscored section)

1. Reading Correspondence

2. Reading to apply a diagram

3. Reading for information

4. Reading for viewpoints

(Students have to attend all questions along with an unscored part which they wouldn't know is actually unscored)
In this part, the student has to be careful about the instructions, and although a lot of practice tests are available online at www.Celpistore.com, the CELPIP reading test would not be much difficult to attempt, however the trick here is to infer the answer than actually searching for it word to word. Feel free to practice as many questions as you like through the above mentioned link and ask as many questions that arise in your minds!
CELPIP WRITING
If you are the one who is tired of writing long essays on things that do not even matter to you just for the sake of clearing an IELTS test, then there's good news for you! In fact for anyone IELTS GT appearing candidate who is fed up of trying new techniques and still is nowhere near achieving the ideal 8777 score (7 in writing, duh! too easy if you follow these tricks for IELTS Writing Task II), you must give CELPIP Writing a try and maybe you would want to appear for this test rather than the other one! Even if that is not going to be the case with you, it is suggested that you spare another minute of your life to look at what CELPIP Writing is:
CELPIP - Writing
Sections: (Instructions given side-by-side)

Total Time - Approximately 53 minutes

(27 minutes + 26 minutes)



Number of Sections - 2

1. Writing an email

(Write an email in 150-200 words on the given topic and with the help of provided prompts)

2. Responding to survey questions

(A survey question with two possible suggestions of a situation is given, write which option according to you is appropriate and why?)
There are different parameters on the basis of which your writing is going to be assessed, make sure that you are aware of the parameters and write the tasks as per the format required by the examiner. For a better clarity on what the basic writing parameters are, there is a chart drawn below. Look at this chart and plan your answers in the way that fulfils the requirement of the examiner (oh yes! it's a hooman who checks your answers!).
PARAMETER
REQUIREMENT

Coherence

Presence of ideas related to the topic in the response
Smooth and effective ideas making the response easy to understand
Proper sequence and organization of ideas in the response

Vocabulary

Adequate word limit in the response
Use of words that make the task easy to understand
Usage of words that deliver the precise meaning as per the context
Appropriate idioms, phrases, collocations used in the response

Readability

Need to have minimal word form, spelling and punctuation errors
Proper control over grammar and syntax
Use of appropriate formatting and paragraphing

Task Fulfillment

Answering all the parts required to be covered in the response
Completing the response, that too relevantly
Use of proper tone as per the social context
It is hoped that the chart drawn above would have given you some idea about the marking criteria and the requirement of the CELPIP Writing. The candidates who wish to appear for the test are recommended to make notes of these things and proofread their responses keeping in mind these points as it would to a large extent help you achieve your target score. For checking out some practice questions of CELPIP Writing and reading their sample responses, click here.
CELPIP SPEAKING
Now, this part of CELPIP is what you come across everyday in your daily life (if you converse in English) or would face when you move to a country with English speaking majority, like India.
By far this is the most interesting speaking test designed so far and all the candidates commend the efforts put in for designing such an intriguing module in the CELPIP test. Anyways, technically speaking, the CELPIP speaking is a bit longer (20 minutes) as compared to the IELTS speaking module (around 11-14 minutes) and the pattern is also nowhere similar.
Another chart is prepared below to give you a rough idea about the question types you would be coming across in your speaking during the CELPIP test.
CELPIP - Speaking
Sections: (Instructions given side-by-side)

Total Time - Approximately 20 minutes



Number of Sections - 8

(Excluding practice and unscored section)

1. Giving advice

2. Talking about a personal experience

3. Describing a scene

4. Making predictions

5. Comparing and persuading

6. Dealing with a difficult situation

7. Expressing opinions

8. Describing an unusual situation

(Some of the questions are directly related to the other, the candidate is advised to read the instructions thoroughly and properly use the preparation time before answering)
Just like writing, there are also certain things to keep in mind while attempting the speaking section of CELPIP. Understanding the scoring criteria would help you improve your performance, not just for appearing in the test, but also for speaking confidently with anyone in English as the questions reflect the use of English communication skills in daily life. Again, the best attempt has been made to simplify the criteria and explain it to you as easily as possible.
PARAMETER
REQUIREMENT

Coherence and Meaning

Providing effective ideas fluidly forming proper meaning
Giving sufficient ideas and explaining each thoroughly
Interlinking the ideas for a particular task efficiently

Vocabulary

Using appropriate vocabulary, idioms and phrases in the response
Providing sufficient words to complete the task
Making use of daily use words and hesitating less

Listenability

Presence of proper rhythm, pronunciation and intonation
Responding in such a way that is clear to the listener
Having rare pauses and self-corrections which do not hamper overall flow of the response and make it easy to understand

Task fulfilment

Completing the given task aptly
Speaking enough for proper evaluation to take place
Responding to the task in the proper manner
Using appropriate tone suitable to the context
WHAT'S THE DIFFERENCE BETWEEN CELPIP AND IELTS?
If till now you have made up your mind to give the CELPIP test a try, then wait no longer! Take advantage of the free CELPIP Tests available on www.celpipstore.com where you cannot just practice the whole test in the same pattern as that of the exam, but can also practice individual sections and achieve your target score.
BTW 'achieving target score' reminded me that you should also know the difference between the scoring of an IELTS and that of a CELPIP test. There is a huge discrepancy in the scores of an IELTS and a CELPIP test – the major being that while IELTS scores are provided out of 9 Bands, the CELPIP test is of 12 Bands.
(So if you need 8777 in the IELTS test, you need a perfect 9999 in CELPIP. However, this is just a basic comparison, you can always check the official websites of Canadian Immigration to know what target score is required by you. Also, unlike the IELTS test, there is no increment of 0.5 bands in CELPIP, for example after 9 you shall not have the provision to score 9.5 but only 10.
As it has already been mentioned that there are two variants of the CELPIP Test: CELPIP – General and CELPIP – General LS, and it has also been stated that the applicability of both the tests is different where CELPIP General is for Canadian Permanent Residency or Work Visa and CELPIP General LS is for Canadian Citizenship, the CELPIP General LS is exact copy of two sections of the CELPIP General test and these two parts are listening and speaking.
So there is going to be no confusion in which test to opt for if you want to migrate to Canada. Likewise, if you are planning to apply for a Canadian Student Visa, the IELTS Academic Test is the right option for you (although there are other tests which are acceptable too – like the PTE).
However, if you need to apply for Canadian Permanent Residency or Work Permit, but still are not sure which test is suitable for you, then in that case the best suggestion would be to attempt scored practice tests of each and select which one you find easier although the pattern would have made it much clear that if you are a daily practitioner of English Language then CELPIP is going to be no big deal for you.
Still, a small comparison chart has also been prepared for you so that it is not much difficult for you to choose one of these tests. Have a look and even if you are still unsure what is to be done contact us at contact@english24x7.com so that we provide you the right direction.
| CELPIP | IELTS |
| --- | --- |
| Conducted only on computer | Conducted both on paper as well as computer |
| Simplified marking criteria | Complex marking criteria |
| Single sitting test of around 3 hours | Test conducted in 2 parts: LRW and Speaking |
| Questions dictated in listening after the completion of a short audio | Simultaneous availability of the questions, however audios are comparatively lengthier |
| A lot of variation in reading questions | Standard pamphlets and passages in reading |
| The complete test is based on daily life in an English Speaking Country | Certain questions are not-related to the daily life |
| Only Canadian accent | A mixture of accents like British, Australian etc. |
| Test accepted only in Canada | Test accepted in many countries |
| Questions in reading, listening are objective (so no fear of spelling error) | Questions in reading, listening can be subjective as well (Need accurate spelling) |
| Certain question types like describing an unusual situation can be bizarre | All the question types are well-known and basic. |
| Test results are available in around 8 working days | It takes around a fortnight for the test result to declared |
On the whole, there is a lot of difference between the CELPIP test and the IELTS test, and honestly both of them require your time as well as energy. However, with just one or two practice tests you would have a fair idea of which test is the right option for you.
Again there is a reminder that we at Nettycoons have developed softwares for exam-like preparation of both the tests: CELPIP and CD-IELTS and we would be more than happy to have you practice with us. We are always open to the valuable feedback of our users and would certainly be glad to know what improvements are required.
Our experienced staff always strive hard to help each student get the target score that he wants and achieve whatever ambition he has in mind. However, even if we keep all our information updated, we recommend you to check the official websites of the tests for regular updates about the changes (if any takes place). You can also read more of our articles on our websites www.celpipstore.com and www.ielts24x7.com.