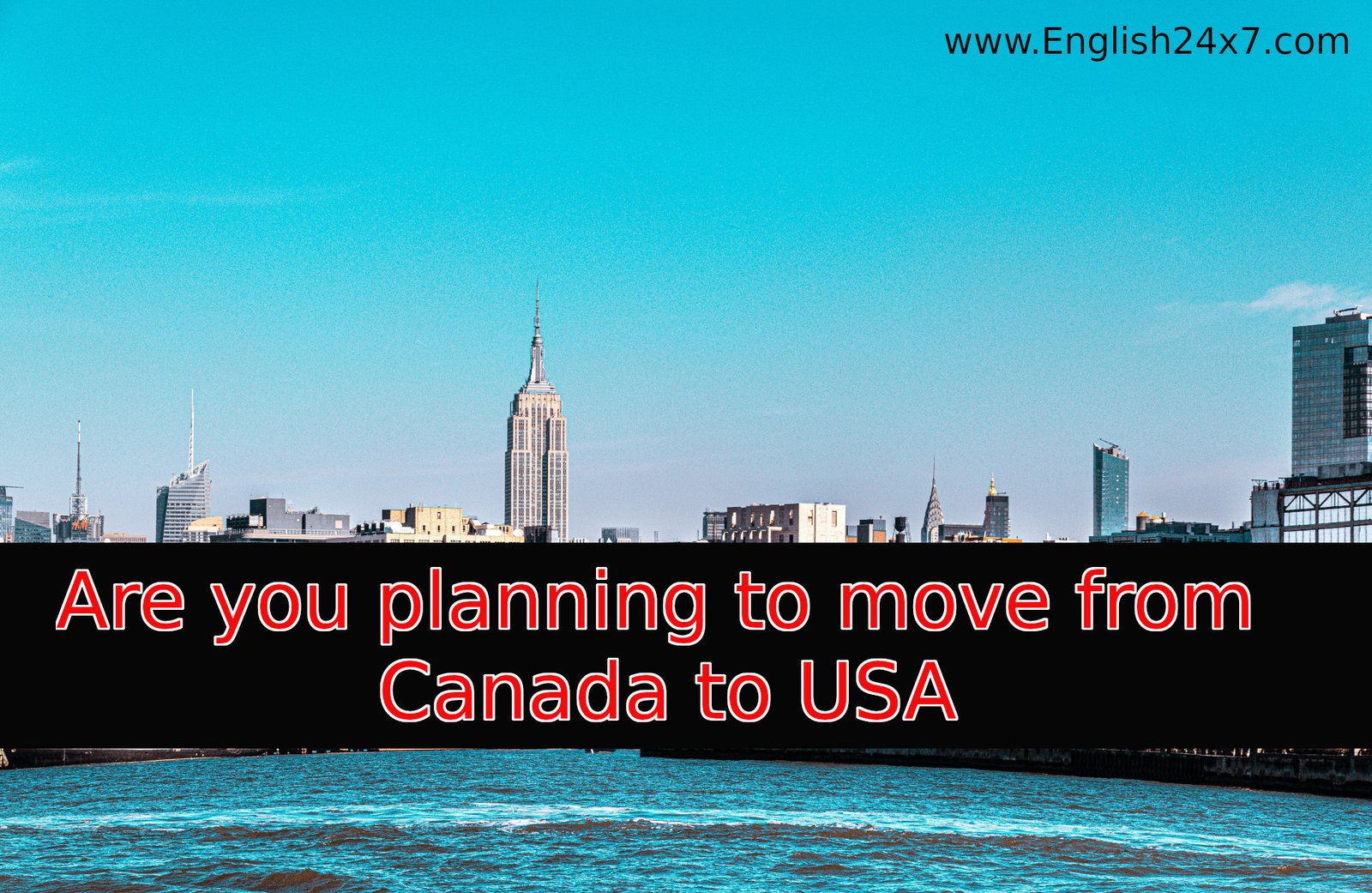 Are you planning to move from Canada to USA
If a Canadian resident wants to work in the USA he must first have a job offer from a US employer. The US employer will sponsor you for a work visa. There are a number of categories of US work visas that Canada's residents can do. Canadians can work in the USA with the proper work authorization depending upon employment situation. Type of work authorization depends on an individual's education and also on their employment situation.
AIl you have a criminal record it will prevent you from entering the USA. If you have a criminal record it also prevents you from obtaining USA immigrations status.
Reasons Why Canadians Move to the US:
Marriage:
If a Canadian meets an American who lives in the United States and they fall in love and marry each other, then the Canadian moves to the USA.
Education:
Some people move to Canada for educational purposes. Many Canadians choose American schools for education.
Job:
You may move if you find a new job. You may also move if you are transferred by your current employer. Some people move to America for economic reasons. The American economy is more diverse. The USA has more career opportunities. a person can fulfill their full potential in one of America's highly competitive cities.Your employer must sponsor you, if you are moving from Canada to the United States for a job.
Immigration Process to the US:
Canadian immigrants get their Green Card and become Legal Permanent Residents as immediate relatives of US citizens, through family sponsorship , through employment.
4 Things to Know Before Moving from Canada to U.S:
1. Steps On Planning a Move from Canada to the USA:
Employment Sponsorship:
Firstly, you should know why you're moving to the U.S. So, you can determine the immigration you need to follow.Mostly, your employer will sponsor you for a work visa. you need to be approved for one of the three following items: Employment Authorization Card/ Work Permit, Employment Visa, Permanent Resident Card/ Green Card.
Business and Investment:
For starting a business or to invest in the country, you will need to acquire a Business Visa or an Investor Green Card.
Family Sponsorship:
By marriage or being an immediate relative of a U.S. citizen, Canadians can acquire a permanent resident green card.
2. Your Checklist Upon Arrival in the U.S:
Healthcare in USA:
Getting health coverage should be one of your first orders of business, before moving to the USA. You must live in the United States and you must be a citizen, to enroll in a coverage program.
In the USA the government doesn't play any such role in the healthcare sector unless it is an exceptional case (disability, unemployment, living close to or below poverty level). All healthcare services are provided through private companies. Residents are responsible for their well being.
Driver's License:
In the USA you need your Social Security Number in order to apply for a driver's license. You should bring your passport, foreign driver's license, a birth certificate and a proof of your legal immigration status.
Financial Services:
You need financial services to send remittances, cash checks and pay your bills.You must open a bank account . You just need An I.D. number, Proof of your identity and address.
Home and Auto Insurance:
Insurance is compulsory in most of the states. Types of auto insurance:-
Liability coverage, uninsured motorist coverage, collision coverage, underinsured motorist coverage, comprehensive coverage. Auto insurance is as mandatory as health insurance.
Home insurance on the other hand is not as compulsory.It protects your personal property.In case someone gets hurt then it also protects the homeowner .
3. Where to get food, alcohol, and different amenities:
The US consists of numerous grocery store chains. You will have access to these stores.
You also have major hypermarket and warehouse chains. It includes wal-mart, target. You can buy toiletries and home- essentials, alcoholic beverages like beer from here.
4. What should I Expect Moving from Canada to the USA:
Yes,It will be worth it because America is one of those countries where dreams become a reality, people just dream of going and settling in the USA. You'll meet loads of friendly people who are willing to help you out if you are in trouble.
5. Determine the best location for your profession:
Your profession will likely determine the city and state that offers the best opportunities for you. Financial centre of the country may be New york. San Francisco is the epicenter of the U.S.
You can take CELPIP Test Online:
The CELPIP test is completely computer based. The test must be completed in person. It should be completed at one of our test centres. You need to provide your identity if you are moving.
Moving to USA from Canada without a job:
You can't apply for a work visa without a job offer or without the support of a US employer. Working in the United States is not as simple as applying, getting a job, and moving to the USA. You need to have a valid work visa or you need to have a work permit.
Seeking Professional Help for Your Visa:
Seeking professional help is an important one in order to apply for a visa. Immigration requires a great deal of preparation,assembling the proper paperwork, following the proper procedures and knowing where to file and when. A legal expert helps in achieving successful applications .
Does Canadian PR work in USA:
If a Canadian Citizen wants to work in Canada, you must have a job offer from a USA employer, then he will sponsor you for a work visa. Categories of work visa include H-1B Visa Temporary Work. TN Visa – NAFTA.