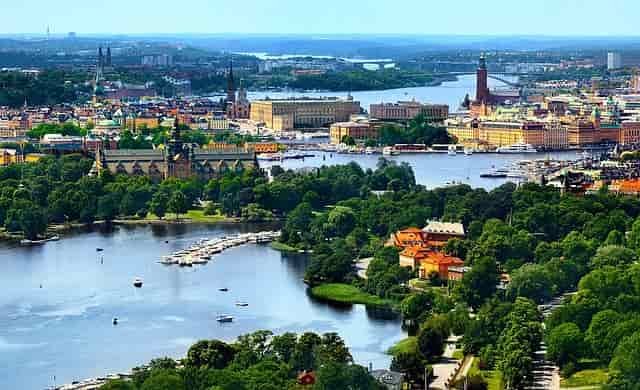 Sweden Immigration
Are you planning to settle in Sweden, if yes, let's try to understand the country itself, after all, is it going to be your future permanent residence? I think before moving to any country you should be well aware of the following:
Sweden time: The first thing we do before even planning to move or even visit any country is, to find out what timezone that particular country is in. The simple logic behind this is to know how that country is placed as compared to the rest of the world. Sweden is GMT+2, which means Sweden is two hours ahead of Green Wich means Time. Please keep in mind this time is taken as Stolkhome time, which is the capital of Sweden.

Sweden Religion: Interestingly around 30% of the Swedish population do not identify or relate to a particular religion but a major part of the population is inclined towards the Church of Sweden better known as Lutheran. Overall Swedish society of very liberal and respect everyone without bothering about their inclination toward different religions.

Sweden's Prime minister: People often wonder who is the man, who is leading this wonderful country, Magdalena Andersson, who is the leader of the Swedish Social Democratic Party, leads Sweden as a Prime Minister of the country. She is not only a seasoned politician but also an economist.

Sweden Weather: if you are looking for up to date weather information the best way is to visit the Swedish Meteorological and Hydrological Institute's website. Here is the link for the same www.smhi.se Rest overall Sweden's weather in the whole country is good as it varies from -30 degrees to around 20 degrees, which is quite acceptable, and people equally enjoy both winters and summers in Sweden.

Sweden People: People are really good, humble, fair and Courteous. An interesting fact about Swedish people is they never express their anger, you will not able to know if they are angry.

Sweden map, like how big is a country and which are neighbouring countries. Finland and Norway are Sweden's bordering countries, again peaceful neighbours.
Swedish Migration Agency: Swedish department, the Ministry of Justice, is managing Sweden's Immigration process via a government-owned agency better known as the "Swedish Migration Agency". This holds the authority to decide about the cases filed by people from different countries, interested in work permits to work as temporary residents and even cases of permanent residence are also taken care of by them. This agency was established on the first of July in the year of 1969.

To keep yourself up to date, you must watch Sweden's immigration news on regular basis, and the best source available on the internet for news related to Sweden's immigration is government websites, like migrationsverket.se, so it is better to visit the same on regular basis.

Before you move to Sweden along with your family, I think the first step should be to acquire Sweden's work permit, so that you may work and get acquainted with the people and work environment, after all, you have to spend your life here.
These days Sweden is giving preference to people from Ukraine, so if you are a citizen of Ukraine and you are presently living in Sweden, you have a very good chance of getting a work permit on a priority basis.
How can I get a work permit visa for Sweden?
For non-EU residents, the very first condition to get a work permit is to get a job offer first, only then you will be allowed to apply for a work permit and even enter Sweden. There are some countries that issue work permits first and you may find a suitable job after landing in that particular country but not in the case of Sweden.
So if you ask me Can I get a work permit in Sweden when on a visit visa? my answer will be no, it is quite clear from the above passage, right. To obtain a work permit you must check out the list below:
You need to possess a valid passport from your respective countries, now valid means which is not expired and issued by the country of your residence.

You must have received an offer letter from a valid employer, we'll cover those points later on, and the offer should be as per the industry in which you are seeking a job.

You must have been offered a salary and position that fulfils your family's requirements so that you may live in Sweden easily. As per the latest available information, a minimum salary of SEK 13k per month is required to qualify for applying for Sweden's work permit.

Now for the employer, he or she must be capable of proving insurance not only for health but also for life, along with a pension, before you begin working for him or her.
The employer must satisfy the following conditions:
Must advertise the position for at least 10 days. Now the reason behind the same is quite obvious, if there is a Swedish person, who needs that job, he has the right to get that job first and if the employer is unable to find a suitable person within Sweden in 10 days, only then he will be allowed to hire someone from outside the country.
Must offer terms as per governments guidelines, which means the employer needs to satisfy terms and conditions of that particular industry along with terms set by Swedish Collective agreements so that the future employee gets all the facilities and rights as per the law.
Must offer the right Salary, that is at par with Swedish collective agreements. As explained it's around 13k at the time when I am writing this article, but again you should visit the official website to get the latest update.
Must provide insurance cover for life, health and even pension insurance, not only this insurance to cover, any injury during the time when the employee is working is also must for all the employers.

Must acquire statement of opinion from the relevant trade Unions. Again as discussed earlier, to protect the right of the Swedish citizens and all the employees even from outside Sweden, employers must satisfy not the government officials but also the trade Unions which stand for the rights of the employees.